NEWS RELEASE
FOR IMMEDIATE RELEASE
Pawster Nashville to Host First Annual "Doggie Drag Show" at Play Dance Bar
On May 26th, the local nonprofit will celebrate three years of serving
pets and people in crisis with a fundraiser featuring pets and people in drag.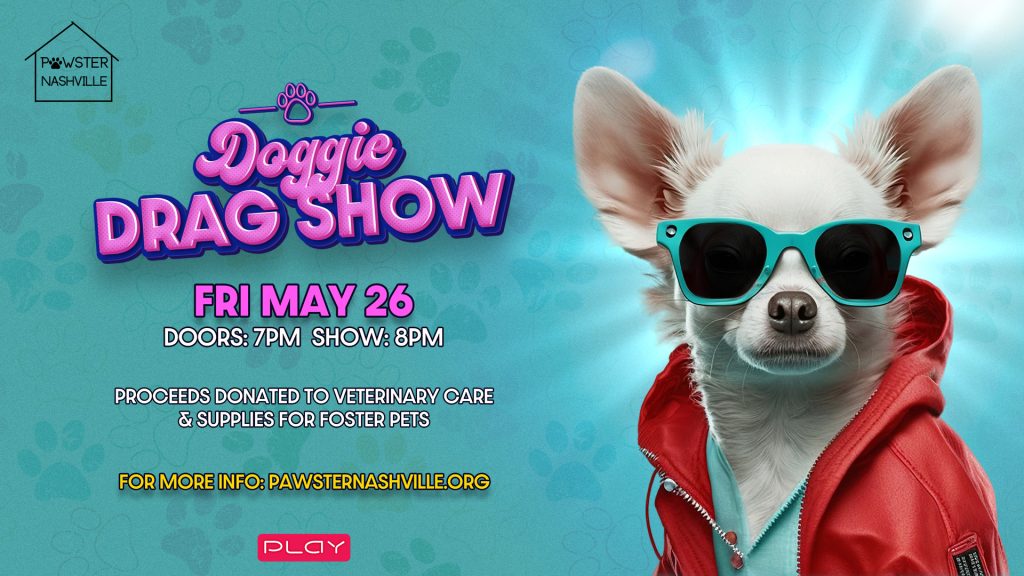 Pawster Nashville
239 White Bridge Pike, Unit 13
Nashville, TN 37209
Nashville, TN – Saturday, April 15, 2023
Pawster Nashville, a local Nonprofit that provides Crisis Foster Care for pets, invites all pet lovers and drag lovers to the first annual "Doggie Drag Show" at Play Dance Bar on Friday, May 26th. Doors open at 7:00pm, and the show starts at 8:00pm. All proceeds from cover charges before 8pm and all tips for performers will go directly to veterinary care and supplies for foster pets, so bring your cash!
Performances will include both people and pets in drag, with special musical performances from local drag performers. Attendees will also have the opportunity to bid on silent auction items and vote for the "Best Pet Drag Name."
According to Pawster board member, Trice Gibbons, "Pawster is so excited to host the Doggie Drag Show, because it provides an opportunity to simultaneously celebrate the LGBTQI+ community and work to help keep pets and their families together."
RSVP today and reserve your VIP table on Facebook or EventBrite
About Pawster
Pawster Nashville provides Crisis Foster Care for dogs and cats: When a pet owner is in crisis, Pawster houses their cat or dog in a loving foster home, until their family is back on their feet and ready to be reunited. Crisis Foster Care keeps pets out of the shelter families together. Pawster believes no family should have to permanently lose their pet due to a temporary crisis.
Contact: Gabe Horton, Executive Director
(615) 434-4912
###